Social Injustice
Body-Camera Footage Reveals Goodyear Officer's Brutal Abuse After Traffic Stop
Lately, it seems like you can't turn on the news or log onto social media without seeing some sort of story about police brutality or injustice. This isn't a coincidence. Nearly everyone has a cellphone with a camera on it and the capacity to record and post even the slightest of slights.
As with any situation though, the public interpretation of these alleged abuses of power is a matter of differing interpretations and context. This most recent altercation began as most do, with little more than a routine traffic stop and a grave misunderstanding…
Pulled Over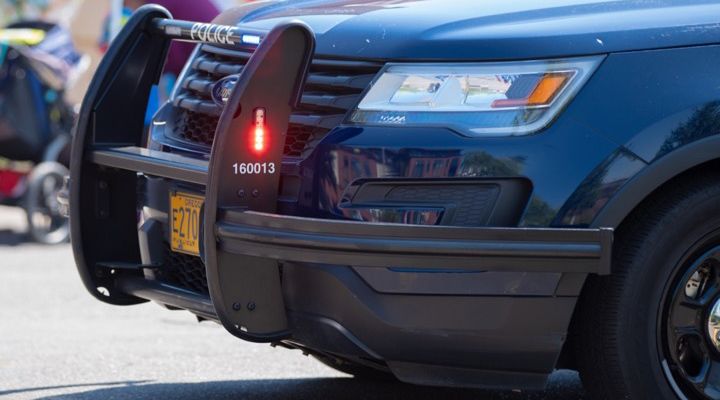 Renee and her friend John were out driving together in their hometown of Goodyear, Arizona, when they noticed a police cruiser had begun following them. They had just left a QT gas station when the cruiser pulled out and began giving chase. Eventually, the officer put his lights on and directed Renee to pull over.
Step Out, Ma'am
The officer in question, who the Goodyear Police Department has only identified as M. Ross, was equipped with a body cam, which caught the whole soon-to-be-sordid affair on camera. Officer Ross stepped out of his cruiser and walked up to Renee Armenta's car. Neither he nor the car's inhabitants had any idea what was about to occur.
Backing Up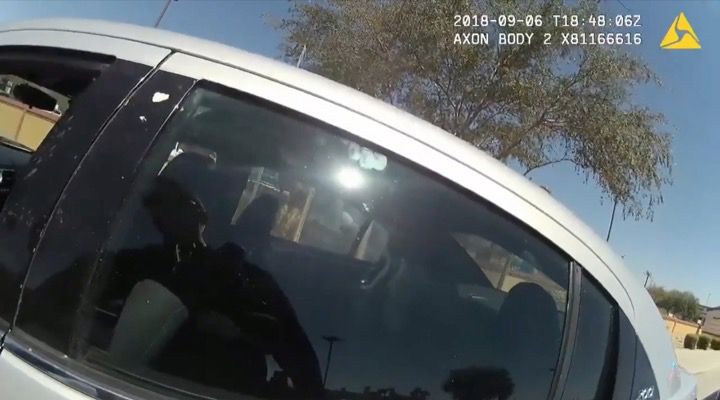 Officer Ross instructed Renee to lower her window and once she was out of the car, informed her that she was under arrest. Bewildered by the sudden and frankly, unwelcome information, Renee asked the officer what he was placing her under arrest for, then began backing up towards the car's open front door.
Hands Up
That sudden movement apparently alarmed the officer so much that he began yelling at the woman to put her hands up. Renee began to panic then and instead of immediately following Ross' orders, continued to ask what she did wrong. Officer Ross then did something that neither of them expected, he took a swing.
Knockdown, Drag Out
Officer M. Ross, either because he was annoyed about Renee's reticence to comply, or worried about the fact that the car's other occupant had chosen that exact moment to get out of the car, punched Renee Armenta in the face. A moment later, he began dragging her along the pavement towards his cruiser.
Gun Drawn
As soon as Renee was prone at his feet, Officer Ross pulled out his pistol and aimed it at the male passenger. He then ordered the man to get on the ground, which because of the gun pointed at him, the man did. Unbeknownst to the officer, Ross' body cam was not the only footage of the scene being recorded.
A Different Angle
While all of this violence and misunderstanding was going down, a nearby onlooker had decided to get out their phone and record video of the incident. From their angle, Officer Ross' punch was much more apparent, as was his violent extrication of the woman from her vehicle's immediate area.
Nothing Wrong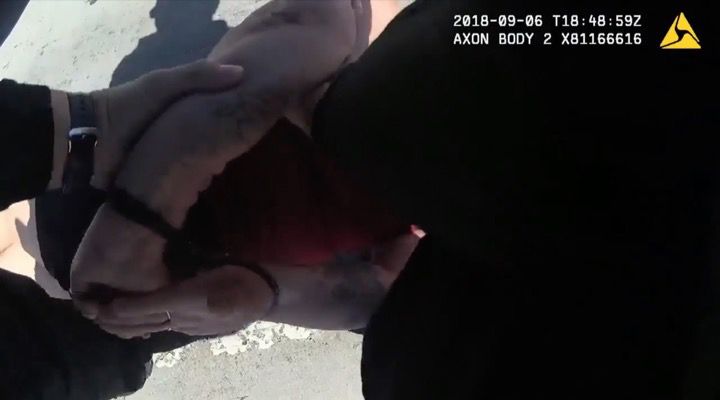 In the police body cam video, we can see Officer Ross cuffing Renee whilst she is on the ground and huffing angrily. She continues to ask what she did wrong the whole time, saying things like "I didn't do anything, sir, why did you punch me?" Thanks to the onlooker's video, the Internet was about to ask the very same thing.
Resisting Arrest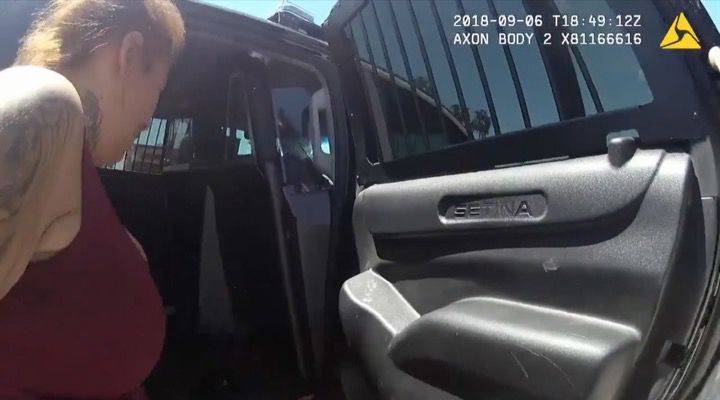 After she has been cuffed, Officer Ross then proceeds to tell her that the reason he punched and dragged her was that she resisted arrest. Yet, even as she is being forced into the back of his police cruiser, Renee Armenta still denies that she did anything of the sort. It was not a clear cut situation, even with both the videos.
Suspicious Activity
A few other police officers had arrived on the scene at this time, asking Ross many of the same questions that Renee and her passenger were no doubt puzzling over. Officer Ross explained that he had seen John, the passenger, standing in front at the QT gas station and looking rather suspicious a few minutes before he'd gotten into Renee's car.
Ran the Plates
Because of their apparent connection, Officer Ross decided to run the vehicle's plates. He soon discovered that the owner, which was Renee, was driving with a revoked license. So as soon as she pulled the car away from the station's parking lot, it was his duty to pull her over and place her under arrest.
Reasons Enough
According to the officer, Renee's hands disappeared behind her back when he informed him that she was under arrest. Worried that she was reaching for a weapon, and regardless of the fact that she was wearing little more than shorts, a tank top, and sandals, the officer considered this a threatening action.
Hospital Trip
A few minutes later, paramedics arrived on the scene. Renee was taken from the cruiser to a nearby bus stop and her injuries were treated. Meanwhile, another Goodyear police officer, identified as J. Cole, explained her situation. She was to be taken to the hospital to be treated, but she was going to have a police escort.
Doesn't Change a Thing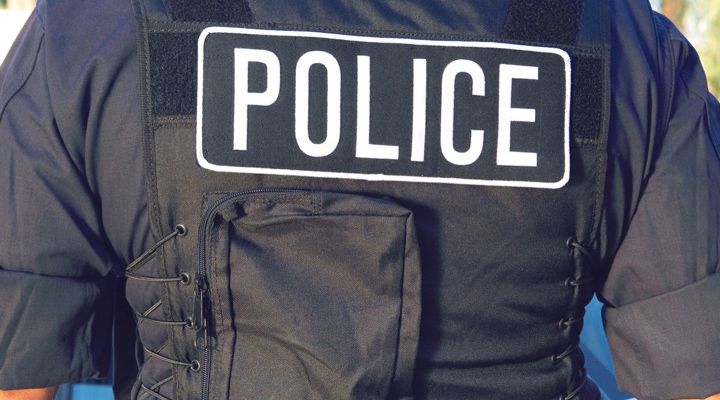 Officer Cole then made sure to inform Renee that once she was done at the hospital, the police would be escorting her to the Maricopa County Fourth Avenue Jail. He asked if this would change her mind about the hospital trip stating, whether you go to the hospital or not, you're still going to jail today."
Her Car's Fate
Renee explained that it didn't matter, she still wanted to go to the hospital. As she rose to her feet, she asked the officers what would happen to her car while she was away. He explained that it would be towed, as was proper procedure in such cases. A moment later, Renee collapsed to the ground and began to sob uncontrollably.
Knock It Off
Officer Cole then shouted at her. "Are you serious? Come on, Renee. Get up. The fire department is here. You're going to the ambulance. Knock it off." He then proceeded to talk to another officer and explain that she was, as he put it, "playing games." Unfortunately for the officers, a little compassion in this situation might not have gone amiss.
Anxiety
Renee Armenta tried to explain to the officers that she couldn't breathe and that she suffered from anxiety issues, issues that would no doubt arise when she filed a civil suit against the Goodyear Police Department in the coming months. Paramedics then placed her on a stretcher and took her to a local hospital.
Viral Video
The nearby onlooker, who had managed to record the whole thing on their phone, went home and posted their video of the incident on social media. It was posted on September 6, 2018, and has since been viewed more than 300,000 times on Twitter. Ross' actions, which don't really look good in any light, have brought a lot of negative attention to both himself and the Goodyear Police Department.
Filing Suit
Since her arrest, Renee Armenta has obtained the services of attorney Anthony Ramirez, who told reporters that he found the video very disturbing. He added that he and Renee were looking to file a civil suit against the officer and the city itself, even as he was defending his client's criminal charges.
Drug Charges
Renee's passenger, John Moreno, is in a bit of trouble himself. Though Ross initially told him that he'd be released with a ticket, another officer later found something "drug-related" in Renee's vehicle that was allegedly tied to Moreno. He was arrested and charged with drug paraphernalia.